Elon Musk's acquisition of Twitter has renewed hopes that Donald Trump's account could be reinstated, but the former president has vowed not to return to the social media giant—a possible political win for the Republican Party.
Political consultants told Newsweek that Trump's determination to stay off Twitter could help the GOP take back both the House and the Senate in November's midterms.
"Truth be told, most Republican lawmakers would prefer that he not rejoin the Twitter universe, because it will be impossible for them to stay on message if he does," said Jay Townsend, a Republican political consultant who has worked for four presidential campaigns and a number of congressional races.
Monday's news that Musk and Twitter reached a deal valued at $44 billion sparked calls for the Tesla billionaire, who has touted himself as a "free speech absolutist," to bring back Trump's Twitter account. Trump was permanently suspended from the social network on January 8, 2021, two days after the U.S. Capitol riot. In its decision, Twitter cited the "risk of further incitement of violence."NEWSWEEK NEWSLETTER SIGN-UP >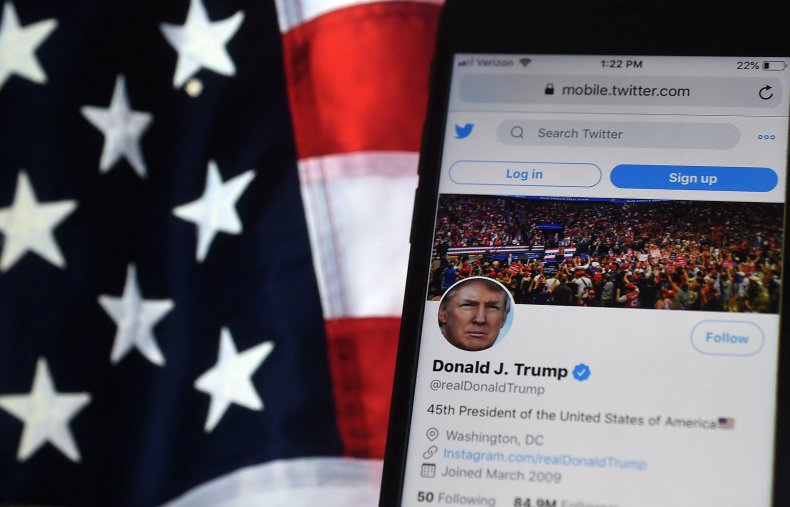 The removal of the former president's account capped his long and turbulent relationship with the social media giant, which became Trump's preferred method of communication during the 2016 presidential election and his four years in office.
Following his suspension, Trump began releasing statements through his post-presidency website, 45 Office. Earlier this year, he launched his own social media app, Truth Social."I am not going on Twitter, I am going to stay on TRUTH," Trump told Fox News on Monday. "I hope Elon buys Twitter because he'll make improvements to it and he is a good man, but I am going to be staying on TRUTH.
Some political observers doubt that Trump would be able to refrain from using Twitter, noting that the former president "is known to change his mind with great frequency." But Townsend and another Republican strategist, Alex Patton, said that keeping Trump off the platform could definitely help Republicans in the fall.
Pointing to the U.S. Senate runoff elections in Georgia last year, Patton noted that Trump's Twitter presence allowed him to "hijack media coverage," which resulted in mixed messaging to Republican voters who were trying to decide if they should cast ballots for GOP candidates or refrain from voting because of skepticism about the election process's integrity.
"Now that [Trump's] political organization is playing heavily in GOP primaries, if he were to reengage on Twitter, the potential for messy, undisciplined primaries increases dramatically," said Patton, CEO of Ozean Media.
Despite warnings that undermining the election process could deter voter turnout, Trump has continued to assert that the 2020 presidential election was "stolen" and that there was widespread voter fraud. No evidence has been produced to support the allegations.
On Monday, the former president reiterated those claims when he said Russia would not have invaded Ukraine had the election not been "rigged."
For some political experts like Townsend, Trump's relentless focus on what happened two years ago could hinder the Republican Party back when it is trying to move on from the last election cycle.
"The House Republicans have no agenda except prevailing in the 2022 election. To that end, they will want to focus on inflation, immigration and culture wars," Townsend said. "Trump's agenda is convincing people that he lost because too many people of color were allowed to vote."